Folks, sharing my experiences with an elderly COVID patient at home and how so many folks came together to help in the hour of need. Despite the loss, the coming together of so many people to help out in whatever way they could, was really heartwarming indeed.
He was a veteran from the armed forces, having served for almost four decades before retirement. Used to stay alone in a flat after the passing of my wife's mother and his son having moved out due to a domestic dispute. Of late, he had developed a myriad of medical issues – diabetes, prostrate and some neuro issues following a brainstroke some years ago.
I order to look after him, my wife and kids had been staying with him for over five years now, even as I worked out of town.
He got some major work done in his flat a couple of months ago. As it turned out, in the midst of all this, he apparently stopped taking his medicines for a while and a few weeks ago, he told my wife that he was feeling dizzy. Taken to a doctor, his blood sugar was a whopping 498.
He was immediately put back on medication, this time under strict supervision of his daughter. She made it a point to prepare all three meals and take those to him every day, along with his evening cup of tea, all the while keeping a strict eye on his food intake and his medicines.
But the sugar continued to remain high and he fell down a couple of times as well.
Finally, last Saturday, she called me up frantically, saying that he needs to go to a doctor.
He had fallen down yet again and was thoroughly disoriented. Incidentally, this was also the day we had put him in an adult diaper, keeping in mind exactly such a situation. Rushed to a nearby doctor, his SPO-2 was detected at 82 & we were advised to take him to an emergency room.
We rushed him to a nearby hospital where we were told that they were only treating COVID patients and as such, even then they were short of beds. So the next stop was R&R Hospital where he was immediately put on oxygen and his SPO-2 went up to 93.
Even then we were under the impression that it was diabetes related. In fact he had been confined to his home for more than a month, coming in contact with just me, my wife and kids and two people who worked at his home. However, the doctors at R&R did a RAT test and told us he was COVID Positive.
This took us by surprise, as also changed a lot of things.
We were told that he needs to go to the Base Hospital since they were the ones nominated for COVID related cases. Moved there in an ambulance, we were dumbstruck at the number of patients out there.
Far too many, I'd say.
Finally when our turn came, the doctor said that he couldn't admit him there and to arrange for oxygen, since he would need it.
What was said without words was that his condition wasn't good.
Anyhow, we were given a cocktail of medicines for him, including one which the doctor said would further increase his blood sugar, for which an insulin injection was also given, that I was supposed to jab him with at night. So we went to the dispensary, standing in line with self-imposed social distancing, patiently awaiting our turn, till such time a gent with a Home Ministry strap around his neck cut right to the front of the line.
However we all in waiting in the line were far too drained mentally after all those hours waiting to get our loved ones treated that we let it be, not without disapproving looks, though.
After all, he might have had someone far more critically ill.
Finally, I got the medicines and we were on our way back, with my wife working the social media looking for an oxygen cylinder. Soon she got a lead of a guy called Ankit who promised to make one available for Rs 40K.
By this time my phone battery had run out and her's was about to, so she requested her sister to transfer the Rs 15k advance. The oxygen would reach us by 10 pm.
Her sister called back that on PhonePe & Google Pay, the names associated with the number were showing Mushtaque Ahmed & Asmat Hussein respectively. Upon being called, he said that the names were of his associates. It looked dicey, but given our situation, I suggested we pay him.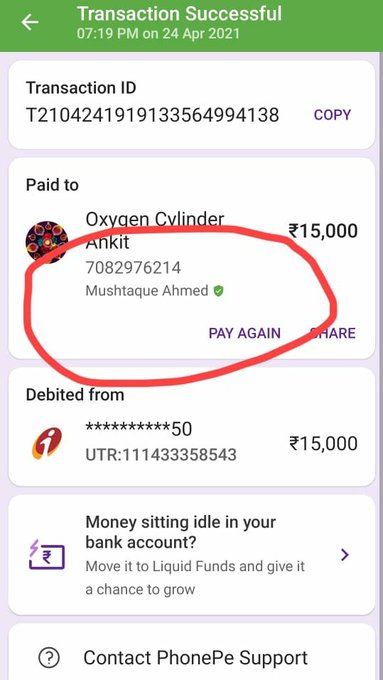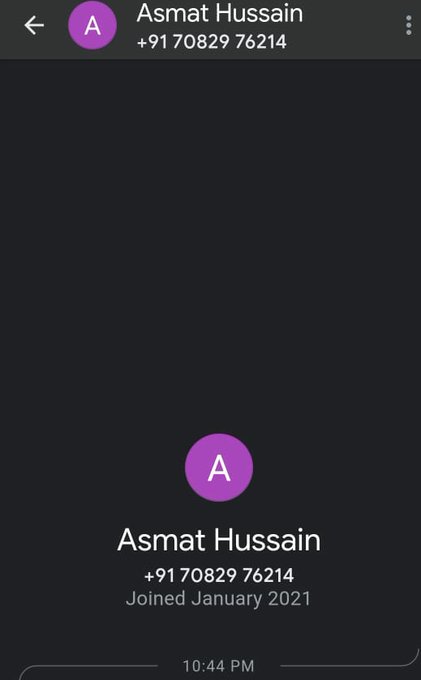 Of course, no oxygen arrived and the number was soon switched off (more on this in a while).
It took till 2:30 at night before my wife's networks worked their magic.
This was the first good samaritan to reach out to us. The first of many more.
A little known acquaintance said that he had a spare cylinder and that he would get it refilled the next day and get it delivered to our society. All that he asked for was for us to pay the person bringing it, the cost of refilling the cylinder.
He also said that we need to procure a kit to go with the cylinder – regulator, pipes etc for it to be used by my FIL.
That struggle would commence in the morning. Thankfully, he woke up in the morning quite energetic and aware of his surroundings, having hearty meals as well. So I put out a query for leads on the kit in my WA groups the next morning. And I got a prompt call by a classmate saying that he had tied it up, thanks to a doctor friend and that I should go to a particular pharmacy to pick it up.
Since my FIL was doing fine, I decided to go post lunch. In any case, the oxygen cylinder would only be available by evening.
So I reached the pharmacy, and was promptly told that they don't have the kit I was looking for!
I called up that classmate of mine and five minutes later he was there with me at the pharmacy. Check yet another good samaritan.
A quick call to that doctor friend and the pharmacist said that he indeed had a kit lying about. But to give it to me would be a difficult job since there were quite a few more people looking for the same thing right outside his shop.
As he tried to find a way to smuggle it out, my friend and I got talking.
He told me of an instance when the same doctor friend had to turn away two very senior bureaucrats looking for beds since he didn't have any. At the same time he said with irony that one of them was probably the guy who had been sitting on the case file for increasing of the bed capacity of that very (govt) hospital for nearly one year.
Anyhow, I finally got the kit and paid the insane amount demanded for it and was soon on my way home. I reached just as the guy with the oxygen cylinder too arrived.
We thanked the guy who was from Delhi Police and had gone all the way to Ballabhgarh to get two cylinders filled, one for us and one for himself. That was the deal with the guy whom my wife had contacted. He had two cylinders and had requested the police guy to get both filled up as a pre-condition to provide him one cylinder for his own need. We paid him Rs 3k towards the cost he had incurred for the cylinder.
Incidentally, he was from the cyber crime branch and we gave him the details of the guy who had conned us the previous evening.
Finally I carted the cylinder to my FIL's flat. Now came the question of installing the kit. The old man was doing fine, but still there was the urgency. In the meantime, biwi had spoken to the folks at the local Iskon Temple for oxygen. Not having oxygen, they said that they would send daily meals for my family.
Check another set of good samaritans.
Then they also mentioned that one of their volunteers had the special key needed to install the kit and got us in touch with him. 20 minutes later, I had the key and a set of quick instructions on how to install the kit. I requested if he could himself come over and install it for us but he said that he was rushing to get someone else admitted in a hospital. So I returned home, key in hand.
That guy didn't even ask for anything other than requesting an early return.
And his positivity also took my mood a couple of notches higher.
By the time I reached home, my wife had got hold of a technician who came over promptly to install the kit. We paid him Rs 700 for a quick and professional job and as it turned out, it was just in time.
Almost as soon as he was finished installing, I got a call from the owner of the key asking for it back since he needed it for another installation. I rushed back to hand it over to him.
That person had been up and about for quite some time by now, helping out all who needed help.
Anyhow, the Iskon folks had delivered five meals by the time I reached back.
The sumptuous meals from Iskon were a big help indeed, especially for the kids who had been relying on Maggi for the past couple of days.
As I mentioned, the old guy was in good spirits throughout that day. So the day had been spent on video calls with all his children and grandchildren. In fact, even his long estranged son had called up and FIL was able to see his youngest granddaughter after nearly six years.
That night he started coughing.
I remembered what the doctor had told – he WILL need oxygen.
Thankfully, we had atleast 24 hours worth of supply with us which saw him through the night. Next morning saw another flurry of video calls to children and grandchildren.
However, his cough worsened and so did his overall condition.
At about 1:30pm, a technician from a nearby lab came over to collect my family's swab samples for our own RTPCR test. It had taken nearly 36 hours to get that done after we started looking. They too were really swamped.
At about the same time, he said he wanted to go the the washroom. With his SPO-2 below 70, it wasn't a good idea but he insisted that he needed to clear his bowels. I suggested he do it in the diaper, but disoriented, he kept pulling away the oxygen pipe and insisted on going.
I finally took him there quickly and realized that he had already soiled his diaper. Anyhow, after helping him sit on the toilet seat, I went out to give my own swab sample and my wife came over to clean him up. I soon returned and helped him put on a new diaper.
At about the same moment, the oximeter reading ceased. He was no more, even though he was expelling gases from his mouth, possibly due to the oxygen still flowing into him. He had gone. My wife and I were both there at about the time this happened.
The only consolation was that he had gone relatively painlessly and quickly.
Ironically, having cleaned him up just a few minutes before, his own daughter had given him a final bath of sorts as well.
It was less than 48 hours after his diagnosis at the R&R Hospital.
Now began another struggle – that of cremating him before the day was out.
And alongwith this struggle came about yet another bunch of helping hands, practically on their own.
After putting in a query about a hearse van / ambulance, another classmate called up and said not to worry, he was arranging for an ambulance. Next moment he added another guy on the call who would provide me an ambulance and an attendant to help move my FIL's mortal remains. They happened to be from a hospital in Old Delhi and would take about an hour to reach.
So I took a wet towel and gave a sort of a 'Panch-Snan' to his dead body to the best of my ability. Meanwhile, my wife had stabilized and together, we both got him in a PPE suit for his final journey.
Just as we were finished doing this, the ambulance boys landed up. They had requested on phone (while enroute) that we try and arrange 2-3 people to help carry the mortal remains down. However, the attendants etc in the housing society politely refused, due to it being a COVID related death.
Looking back, I don't blame them for it, even though it did take me by surprise at that moment.
The good samaritan of Iskon too was unable since he himself had gone into quarantine with a couple of suspected COVID cases within his own family.
Ultimately the ambulance driver, the attendant and I brought him down to the ground level where my wife joined us in lifting him up and putting him in the ambulance.
It was to be just me and my wife who would have to conduct the last rites.
No one else could make it. Both his other children were settled outside Delhi.
Anyhow, the same society attendants who were unable to help us with moving the body, had in the meantime, arranged for flowers for his last journey – something that we had just not thought about, swamped as we were making the arrangements for his funeral. And those folks were also there standing respectfully as the ambulance moved out.
Yet another bunch of good folks, doing their best under the circumstances despite their own fears.
I kept on the tail of the ambulance as the driver drove it fast and furiously through the traffic, seeking to reach the crematorium in time. Finally we reached the place, once again, in Old Delhi.
Here, yet another struggle awaited us.
At first, they were aghast that we had brought a body all the way over there, instead of going somewhere closer to home. Then they said we had not intimated them prior. Finally, the manager referred me to the Pandit Ji who was coordinating the cremations.
He was one hassled man. Not surprising, seeing the sheer number of funeral pyres all around. His first reaction upon hearing my request – get him tomorrow at 11 am. Nothing can be done right now.
Taken aback, I started calling people looking for a morgue.
I was in no mood to argue for a slot for cremating my FIL – firstly, because that just isn't part of my nature and secondly, because that wasn't the way he should complete his final journey – begging for a slot.
The ambulance attendant suggested that I ask him again.
But even before I could mull over it, the Pandit Ji himself came over and told us to wait for about 10 minutes and he would do something for us. Yet another good samaritan had decided to go out of his way. As I said, people are fundamentally good. He was just the latest one.
Finally he told one of the crematorium workers to load wood on a cart for the cremation. The guy, named Rahul, asked me to get a couple of people and come along. I told him I was the only one and together, we two went to the shed where wood was stored.
It took us about 30mins to choose and load the wood. Somewhere in this duration, both the ambulance guys too joined us, still wearing their PPE kits in the middle of the Delhi summer, helping us pick and load.
Right there were two more guys going out of their way in our hour of need.
They then also moved on to help make the pyre for my FIL, along with another crematorium worker who, though dead tired, was still in good spirits. As it turned out, he had made about 20-25 pyres thus far in the day, which thankfully, was coming to a close now.
Finally, the pyre was ready and my wife consigned her father to the holy agni, even as her siblings watched on a video call.
It was now time to call it a day. After thanking all those present and paying their fees as needed, plus a bit more, my wife and I started back. Enroute, she got a call from the lady who had been sending tiffin for my FIL for the past few months. Upon learning that he was no more, and realizing that no food would be cooked in the house for the next few days, she insisted upon sending tiffins for us as well.
She was one more good soul offering help without being asked for it.
It had been a long day indeed. We had been all alone, yet there were so many good souls all around to take the load off our backs. With hindsight, somehow it seems that the entire humanity had come together to ensure that things happen without much trouble.
The next day we went to the pyre again to pick up his 'Asthiyan' for the final visarjan at the ghat near the Gurudwara Saheb at Maju Ka Tila. Once again, as I carried the load all alone, there was a voice from behind, with one kindly Sikh gentleman asking if he could help.
I declined this time, carting the load all alone and finally handing him back to the Mother Earth.
On the way back, we got our RTPCR test results.
Self and the kids tested negative, while the Missus tested positive. That is a story for another day, after she recovers, though.
All in all, this had been quite an emotional journey which could have been far worse, but for the kindness of known as well as unknown people who took it upon themselves to help us navigate through it all.
May God bless them all