(This chain of thoughts was tweeted on the night of 5th August 2019. Somehow I forgot to archive this in the blog. So here it is!)
So this is straight from the mouth of a fly on the wall in GHQ, Rawalpindi about the goings on since 10:30am PST earlier this day.
Here goes ..
The Brown Pants Chief was tunned .. err, sorry .. stunned upon hearing the Indian Home Minister. Did Amit Shah really say what Bajwa had just heard? Or was it his ever present companion – ear wax – that had caused him to hear something else entirely?
It was a bit too early in the day, but what needed to be done couldn't be delayed any more. After mulling over whether he should do it or not, he picked up the secure telephone line on his desk. And passed a short and crisp order – 'Oye ADC, chheti ik glass lai ke aa!'
Now while he waited for his ADC to get him his favourite crystal glass, he took out the keys to the safe kept safely hidden inside his office. One moment later, the key was in his ears, scraping out the ear wax for the fourth time this morning.
Damn, it felt sooooo good!
Ears cleaned, he went back to his favourite news channel – NDTV – to confirm his worst fear.
Yes Amit Shah had indeed announced not just the abrogation of Article 370 & 35A, but also hived away Ladakh from J&K. Not just that, but Jammu and Kashmir was to be a Union Territory henceforth.
O B***C*** .. he shouted at no one in particular, just as the young and beautiful Captain Jamal entered his office with his crystal glass!
Get me the Propagandu-in-Chief, he thundered at the ADC.
Yes Sir, the shaking youngster replied and practically ran out of his office!
It was not even 11 am, but he needed that scotch to calm his nerves. So out came the key once again, and this time instead of his ear, it went into the safe.
Out came his bottle of Blue Label, bought from the Duty Free in Washington!
Yes, it would help him think better!
He was on his third and (hopefully) last tot when in came the Propagandu-in-Chief, smiling his irritating smile.
Oye Ghafoore, hunn ki kariye?
Don't worry Sir, replied the Propagandu-in-Chief, I have already personally cleared the hashtags that we will trend on twitter!
Those Indians will not know what hit them. Aap bas dekhte jaiye Janab kaisi aag lagayenge hum!
The Supreme Brown Panted one let out a loud sigh ..
Then he asked – Ghafoor Janab, toh phir ye Indians Article 370 phir se wapas le aayenge?
Predictably, Propagandu-in-Chief broke into that toothy grin of his because he had nothing to say!
Ghafoor Saab, now you know why you still haven't been promoted to become a crore .. err .. corps commander?
And just like that, the grin vanished!
And what the fcuk is this #KashmirParFinalFight wala hashtag that you have highlighted, hain? Don't make those fanboys / fangirls ask for something you cannot deliver.
Kaun ladega Indian Army se? Aur Air Force / Navy se?
Aap jayenge?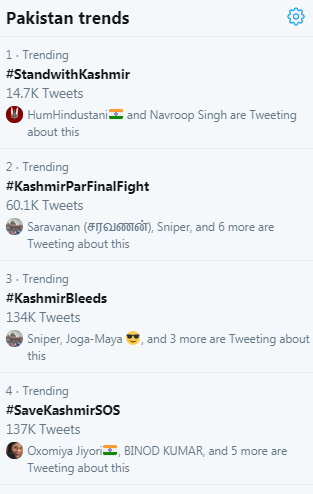 Taken aback, Propagandu-in-Chief offered an explanation.
Lekin Janab, Balakot ke baad ki saari fights to hum hee jeete hain .. kam se kam twitter par hee sahi! You don't know Janab,even last night I won another Twitter War, this time against @AdityaRajKaul!
Ye dekho screenshot!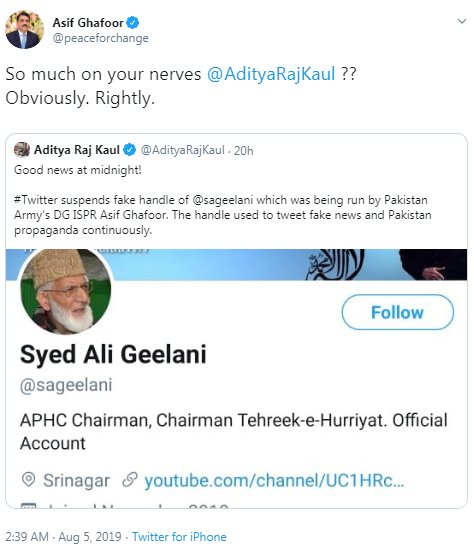 Oye Ghafoore, B***C***, agge ki karna hai?, Bajwa slipped into vernacular, unable to take this sophisticated bullshit anymore!
Janab, aap jaisa bolenge waisa hoga, Propagandu-in-Chief hit the ball back in his boss' court with equal 'finesse'!
How long did we take to issue a formal statement after the Osama bin Laden raid?
Janab, 48 hours.
Ok .. the Boss replied .. he wasn't too keen on breaking the record.
Btw Janab, apne DGISPR wale handle se ek condom wala statement daal diya jaye?
Oye khotey, CONDEMN hota hai! And no, let the bloody civilians reply. Aisi cheezon mein khud panga nahi lena kabhi.
Ji Janab, Should I call Imran Saheb?
No wait, let me call him.
Oye, uski kal raat ki utar gayi hogi na ab tak?
Utar gayi hogi janab!
Bajwa – Oye Imran, oye uth gaya tu? .. Good, have you heard the news? .. Good, Trump ko phone laga toh, let us hear what he has to say about this Kashmir thing .. Achha? .. Sachchi? .. Chal koi na, let us wait for a while then ..
All OK Janab?, Propagandu-in-Chief asked.
Oye nai oye, Imran was saying that Trump abhi so raha hoga. Washington mein abhi bhi raat hai na. In any case, India may be looking to hire Trump to actually mediate on OUR 'Azad' Kashmir!
An involuntary 'Otteri' escaped Ghafoora's mouth!
So what do we do now, Janab?, Propagandu Boy asked his Boss even as he stared at the bottle of Blue Label longingly!
Koi na, do one thing, add one more hashtag to your twitter campaign with UN and maybe OIC also. If not on battlefield, we will show them on Twitter atleast.
Propagandu-in-Chief suddenly perked up, the long awaited promotion back in sight!
Already done that janab – ye dekhiye screenshot!, said he even as he gave himself a mental high five for being so clever!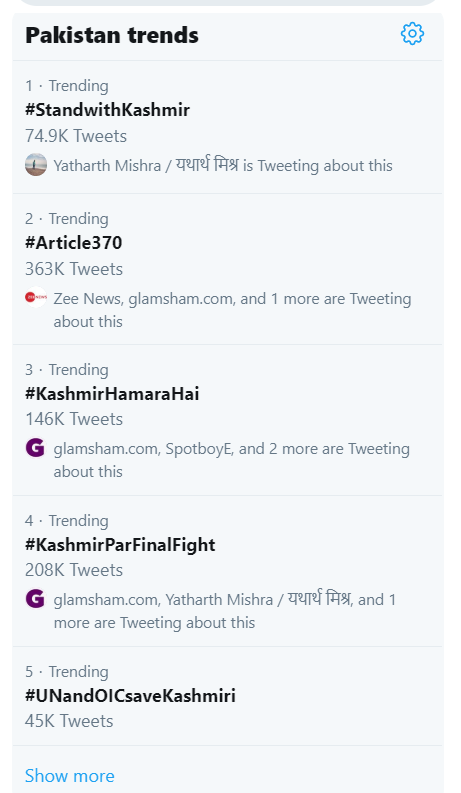 It seemed that the Boss too was happy to see it.
Yes, he was going to give him a Shabash!
Ya khuda, maza aa gaya! Ab promotion duur nahi! Thank you Amit Shah Bhai!
A loud OYE from the Boss however, brought the daydreaming Shri Propagandu-in-Chief back to the present!
OYE KHOTEY, what kind of hashtag is this – #UNandOICsaveKashmiri ?
Abe, ab log bolenge ke Twitter pe bhi bheekh maangne laga hai Pakistan.
And just like that, Ghafoor Miyan's wet dream of a promotion came to an end!
REMOVE THIS HASHTAG, thundered the Boss!
Err .. Janab .. this is one of our best performing hashtags this morning .. the average citizen is very happy with it.
But no, the boss wasn't interested in any explanation.
And then he let out an inconvenient truth!
I DON'T CARE, saala bhikhariyon ki kaum ho gayi hai hamari.
Ji Janab, came the expected reply!
But Janab, what about an official statement on the issue?
FUCK OFFICIAL STATEMENT, came the reply.
Lekin Janab, kuchh to bolna padega.
Why should the Pakistan Army be speaking on foreign affairs?, asked the BrownPants-in-Chief.
Before he could control it, an involuntary chuckle escaped Propagandu-in-Chief's mouth!
Pakistan Army is after all, the OWNER of Pakistan .. or whatever was left of it after 1971!
Lekin Janab, kuchh to bolenge na hum .. kam se kam apni awam ke liye hee?
GET LOST .. NO STATEMENT .. came the next command from the Chief Brown Pants who was on his fifth 'tot' of Blue Label by now!
And out ran Ghafoora, praying that the Boss doesn't remember this conversation when he wakes up!
With this, the fly also flew away!
But on a more serious note, it has been more than 12 hrs since the announcement to trash Article 370 was made in the Indian Parliament. Yet there has been no word on it by ISPR, or Asif Ghafoor's personal handle, or even Imran Khan's handle!
Heck, there has been not a SINGLE tweet by them all throughout this day, which is, well a bit out of 'character', since they are normally fairly prolific with their twitter handles!
One can very well imagine the dance of headless chickens going on in Rawalpindi & Islamabad!
For all their social media bravado, when time comes to put their money where their mouths are, they all clam up! What is interesting is that after systematically working up the yahoos that compromise much of their awam, now they don't know how to fulfill their 'expectations'!
The entire Govt of Pakistan had gone into a tizzy when the bin Laden raid happened. It was perhaps for the first time that a national govt didn't know what to say, for a full 48 hours!
What today's events have done is that it has made them go mute all over again, the utterance of their loudmouthed foreign minister notwithstanding!
THIS, folks, is the impact on Pakistan of what the GOI has done!
I conclude this blog post with this twitter poll, posted in the immediate aftermath of the Balakot strike:-