Came across this blog post from a veteran officer who revisited Kashmir as a civilian. A mighty interesting piece. Highly recommended reading.
Totally worth the 3 minutes of your life that it asks for. Sharing some thoughts on it ..
Here's the tweet that brought out the blog post to my TL.
Now this is something really interesting since in a decade plus of my Twitter existence I don't think I ever came across such an account of viewing Kashmir Valley from a different perspective.
I've read the blog post a quite few times since this morning. It is a short account of an army officer who has served in the Valley with a gun in his hand, and now returns for a different business altogether, in his new role in the organized retail sector.
A wonderfully penned chain of thoughts that has triggered this thread. The contrast in both the situations couldn't be more different, as is aptly depicted by the two photographs used in the blog.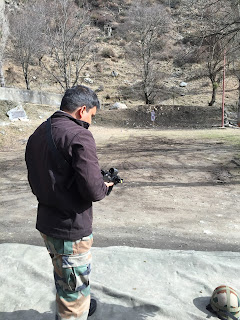 The first picture depicts the person while in uniform, a gun in hand, possibly on a shooting range since one can just about make out what seems to be a practice target ahead.
The second pic of of the same person, this time NOT in uniform, standing in what looks like a saffron field. You can still see some uniformed persons in the background, however they aren't there because of the blogger, or for him!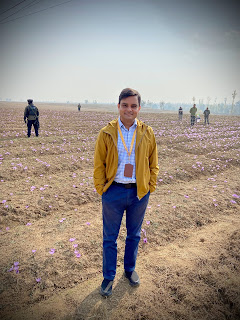 I'll go thru the blog post in a while. But what I intend to write before that is a perspective from two different perspectives – One of a fauji and the one from the locals that @different_take interacted with as part of his new job.
Firstly, the young employees of his organized retail chain that he had gone to meet and possibly, assess/review their work.
One strand that stands out constantly is the optimism in their hearts, regarding their future.
This is a HUGE marker of current situation.
I'll explain how.
You see, this is a generation of Kashmiris that was born AFTER the Valley erupted in violence in the 90s. Most of them would be under 30 years old. All that they would have seen in their young lives would be the fight between Pakistan sponsored terror and Indian security forces.
In short, I would call this a generation brought up in the shadow of guns and death ever since they first opened their eyes.
An entire generation that would, in all probability, be suffering from some sort of PTSD in varying degree, both individually as well as collectively.
If you think I am kidding, I'll remind you that Burhan Wani was alive till just over six years ago, and the intense demonstrations and stone pelting after his killing would have had atleast a few of these same people or atleast their acquaintances too throwing stones.
Mind you, I make the above statement from a totally neutral point of view, just as a statement of fact. Especially since the areas that @different_take talks about in his blog post included some of the most violent ones in that phase – Anantnag, Pampore, Bandipur, Baramula ..
Going further back in time, their school yrs would have seen long closures thanks to the never ending Bandhs called by various 'stakeholders'!
Talking of bandhs, when was the last time you heard ANY news about Hurriyat Conference? Or anyone even talking about them? Get my point?
One can only imagine these kids growing up into the young adults that they are today – With not even a stray strand of hope for a 'normal' future.
Yet, here they are, excited to be on the cusp of a journey that will bring about prosperity to their lands.
These are not my words, mind you!
I am merely paraphrasing from the blog post!
Imagine a veteran who would have planned over and over again when going through these areas, now doing so in a taxi, and working out of there .. just as he would anywhere else in the country!

Moving on to the men in uniform who been a permanent presence over the past few decades, they too are stakeholders in the situation in the Valley, IMO. Heck, they put their very lives on the stake, losing cherished brothers ever so often in the line of duty.
Yet here is one of 'them' who now walks the same streets without a weapon and without any worry either! The locals too are slowly getting used to NOT having security forces everywhere on their streets. The last statement in this screenshot sums it all up beautifully!

Of course, the positive impact of such a large number of troops on the local economy over the years too is not lost on the local traders.
Before moving ahead in this blog post, let me take a step back and go back a few steps, to the two photographs shared above. Will talk a bit about the sheer symbolism that I see here.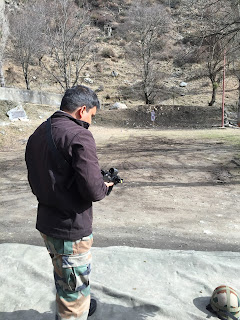 This photo is from his days in uniform. The person has his back turned towards you. A weapon in hand. Body language that is not very communicative, and even 'cold' if you may call it so.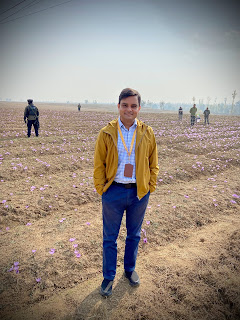 Now contrast that with this pic – A carefree smile. Relaxed demeanour. And what seems to be an identity card of the current employer around the neck!
I'd say it is this very contrast that quite sums up the rapid changes that the situation in Kashmir has seen – from the never ending stone pelting, violence and deaths to the current state when individuals on both ends of the earlier reality – faujis and locals – are not only working together without any fear, but are also looking towards an even brighter and prosperous future in these very lands where both would have seen dear ones die.
A LOT have been accomplished by all concerned, especially since the abrogation of Article 370 and thereafter.
The govt has made the separatists and vested political interests, irrelevant.
The security forces have ensured continuing peace, occasional incidents notwithstanding.
But most importantly, the LOCALS have embraced the change. They are the ones that are working hard towards a better future for themselves. And mind you, those born after 1990 are doing so without any prior reference point, or experience of any bit of lasting peace in their lands!
And of course, there are the ever present tourists from Gujarat!
But jokes apart, it is a really heartening blog post to read. So much so, that I have actually read it more than just a few times.
Of course, difficult times are always hiding just behind the next corner. One is aware that enemies outside & within would do anything to ensure that Kashmir gets to a boil again, since it would suit them. Even if it is at the cost of the very Kashmiris they claim to represent!
Who knows, they might yet succeed in scuttling the current development. But then, that fear is not something that should actually stop the good folks from aspiring and actually working towards a peaceful and prosperous future. Hence, the gladness I felt on reading this blog post!
Mind you, THIS was Pampore sometime in 2016. An attack that took the lives of quite a few security personnel.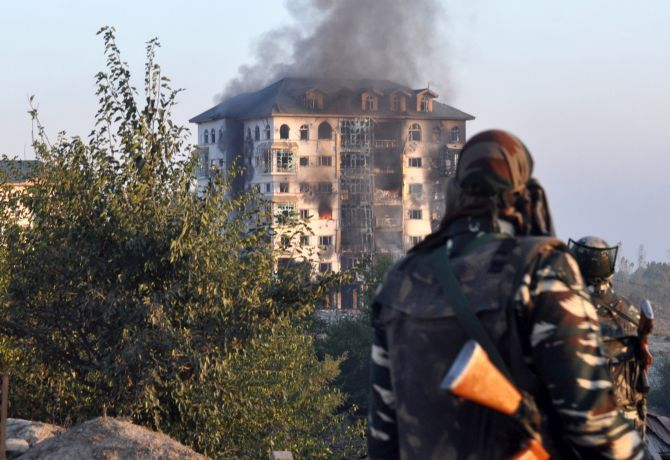 And here is the same Pampore and someone who was part of the same security apparatus now travelling as any local or tourist would do. And it felt safe!

This in itself is a huge commentary on how far we've come as a Nation in securing our crown.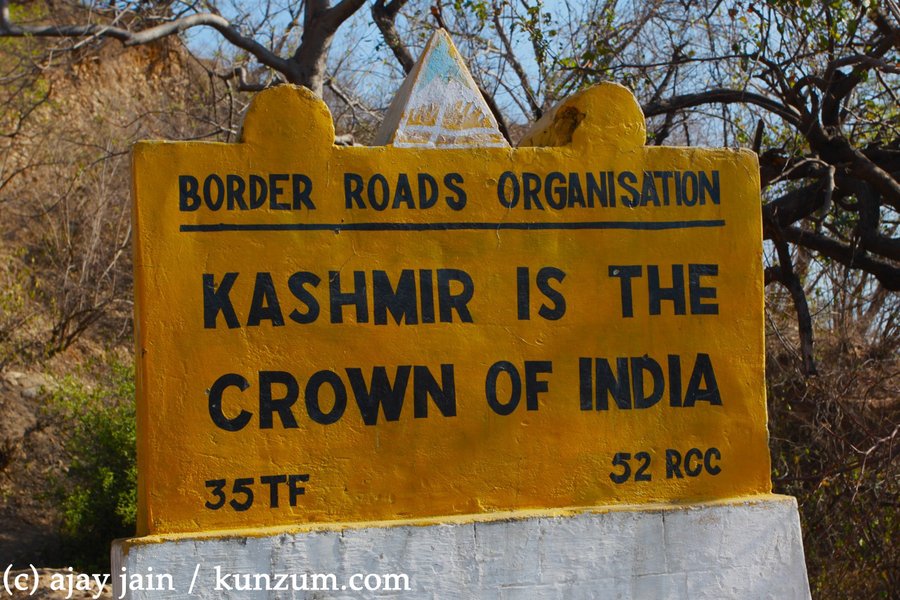 I'll end this chain of thoughts here. I just had to write it after I went thru the blog. Hope I've made some sense.
Do read the blog for yourselves.
Here's praying for an even brighter future!
:fin: